Diversity to cover fluid application needs of all types while maintaining the highest technological standards has been fundamental to the rise of Sundstrand Hydraulics to the pinnacle of success.
A historical review of Sundstrand Hydraulics reveals a most intriguing series of acquisitions, mergers and formation of new corporations over the last hundred years that ultimately results in a hi-tech corporation of international repute with billions of dollars as its annual turnover.; Hamilton Sundstrand, that is a part of United Technologies Corporation.
The story begins in 1905 with the establishment of the Rockford Tool Company in Rockford, Illinois, to manufacture wood working tools that included the carving chuck and belt sander along with other equipment. In 1909, another company called The Rockford Milling Machine Company was established in the same building by Oscar Sundstrand together with his brother-in-law Edwin Cedarleaf.
Oscar Sundstrand's brother David Sundstrand, an employee of The Rockford Milling Machine Company invented the first-ever adding machine. It met with resounding success and resulted in the formation of a subsidiary in 1919 called Sundstrand Adding Machine Company. Oscar and David Sundstrand were co-owners in the subsidiary company.
In 1926 the Rockford Tool Company and The Rockford Milling Machine Company merged to form the Sundstrand Machine Tool Company. Just a year later the rights of the adding machine were sold to Underwood-Elliot Fischer Company and the company diversified into the hydraulic component business and other technical fields.
The early part of the 1930s saw Sundstrand Machine Tool Company pioneer the use of hydraulic tools in its manufacturing processes to meet the demand of finer tolerances required of precision machine tools. Very soon hydraulic devices had replaced all hand-cranked machinery in the company. Side by side with machine tool manufacture, the company started manufacturing high quality hydraulic motors, hydraulic pumps, fluid motors and hydraulic transmission systems.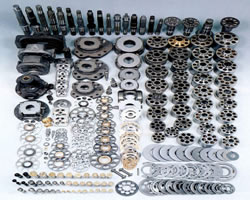 Sundstrand became seriously involved in the aviation industry during World War II with the company's successful integration of hydraulics in aviation engineering.
The approach turned out to be highly successful and led to the company supplying a vast array of components and hydraulic systems to aircraft manufacturers both in the commercial and military sectors. A separate aviation division was formed that gradually gained predominance over other sections.
In order to properly reflect the diversity in its interests the Sundstrand Machine Tools changed its name to Sunstrand Corporation in 1959 and got listed on the New York Stock Exchange. Later in 1962 the company organized itself into two major divisions of Aerospace and Industrial Products.
The new improved aerospace manufacturing and testing facility in Rockford, Illinois, was the leading business division of the corporation specializing in the manufacture of flight actuation systems and electric power systems for military, commercial and space applications.
In industrial products, the Sundstrand Hydraulic division rose to great heights by applying constant speed drive technology used in aviation to off-highway equipment. To gain maximum business advantage, the aerospace and industrial products divisions jointly worked to form another division called Hydro-Transmission division and by 1965 Sundstrand Hydrostatic transmission components were a major item supplied by the company to various automobile companies.
Sundstrand went ahead to further acquire other new companies and later formed three new businesses:
• Sundstrand Data Control Inc. which produced avionics systems, flight data systems and aviation entertainment systems
• Sundstrand Heat Transfer Inc. producing heating and cooling coils and
• The Falk Corporation for supply of enclose couplings and gear drives
In 1970, Sundstrand formed another company, the Sundstrand Fluid Handling, in order to develop pumps for nearly all types of fluids.
In 1977, the machine tool division was sold to White Consolidated Industries. It later formed a joint venture company with Sauer Gertriebe of Germany in 1986 as a licensee for Sundstrand hydrostatic transmissions technology. But this was quickly dissolved in 1989 with Sundstrand selling its interests in the JV company to Sauer Gertriebe. Sundstrand continued to thrive.
In 1999, United Technologies Corporation, a diversified company with interests in heating and air conditioning, Otis elevators and escalators, Sikorsky helicopters, Pratt and Whitney aircraft engines, aerospace systems and industrial products acquired Sundstrand Corporation and merged it with its Hamilton Standard division. This was the biggest acquisition made in the history of United Technologies Corporation which, was earlier known as the United Aircraft Corporation.
In the year 1975 the name United Aircraft Corporation was changed to United Technologies Corporation. Hamilton Standard as part of the United Aircraft Corporation/ United Technologies Corporation enjoyed an enviable reputation in aircraft and aerospace engineering.
In 1938 it had introduced the Hydromatic propeller, which was afterwards designated as an International Historic Mechanical Engineering Landmark for the highly developed technology in propulsion. In 1946, David Sundstrand (of Sundstrand Adding Machine Company fame) along with Fred Swanson, Gunnar Wahlmark and others of Hamilton Standard adapted technologies developed for oil pumps and machine tools to design a hydraulically regulated transmission system for the famous B 36 bomber of the US Air Force. By 1958 United Aircraft Corporation was firmly established in the solid rocketry and advanced propulsion systems fields.
By merging Sundstrand Corporation and Hamilton Standard in 1999, United Technologies Corporation formed a new company known as Hamilton Sundstrand with headquarters at Windsor Locks in Connecticut
Before the acquisition/merger, both Hamilton Standard and Sundstrand Corporation had complementary product lines. After the merger, Hamilton Sundstrand became one of the largest suppliers of aerospace and aircraft products. The systems supplied by it are installed on most commercial and military aircraft around the world.
Hamilton Sundstrand hydraulic systems in aerospace and aircraft sectors are found in flight control mechanisms, autopilots, wheels and brakes, power control units, fuel pumps, fuel control valves etc. Basic components like actuators, hydraulic pump and motors, valves, servo actuators, accumulators and reservoirs etc. form part of the sophisticated high-tech systems developed by the company.
Hamilton Sundstrand Industrial is involved in the supply of hydraulic equipment used by local and multinational companies in water and wastewater treatment, hydrocarbon processing, power generation and oil and gas industries including agricultural fertigation and chemigation equipment. The Milton Roy Company, which is a part of Hamilton Sundstrand Industrial, manufactures the equipment. The Milton Roy Company has over seven decades of experience in manufacturing controlled volume pumps and related equipment that can handle various types of fluids.
Hamilton Sundstrand and all predecessor companies responsible for the manufacture and supply of Sundstrand hydraulic systems, equipment and components have throughout maintained the high technological standards worthy of praise and unquestionable reliability.